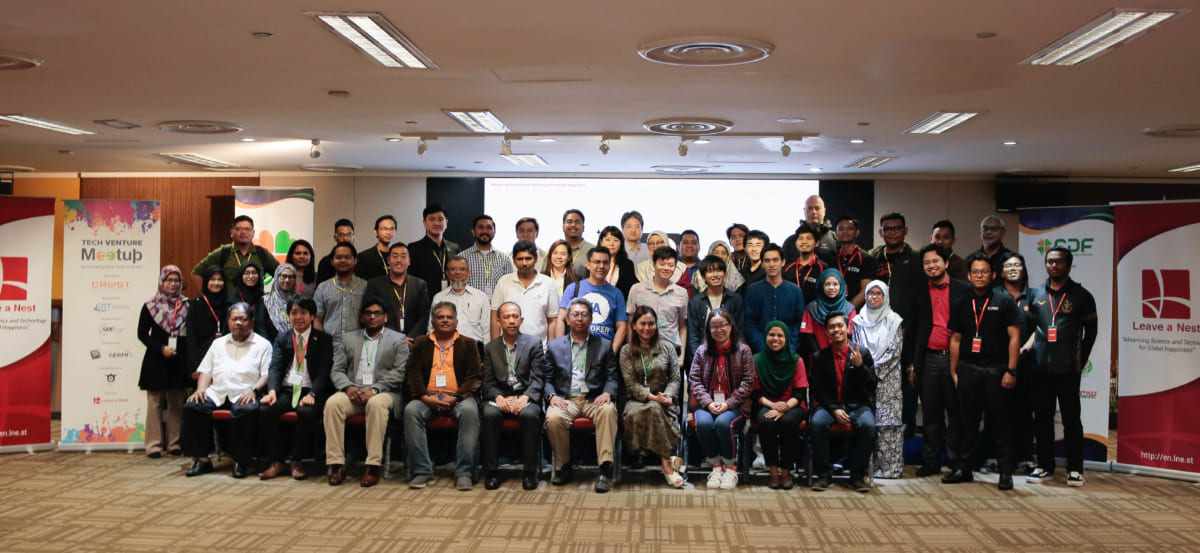 Leave a Nest Malaysia Sdn. Bhd. is excited to announce that we have successfully conducted the second Career Discovery Forum in Malaysia on 12th October 2019 at SME Corp., Malaysia, Platinum Sentral, Kuala Lumpur. The event was supported by Arinaa Kambyan Berhad and Aerodyne Group as Silver Partner.
With the theme of 'Integrating Science and Technology in Agriculture', this year's event was able to gather 73 participants from postgraduates, undergraduates and fresh graduates from various fields and universities.
Career Discovery Forum in Malaysia 2019 was opened with welcoming Remarks by Mr. Abdul Hakim Sahidi, Managing Director of Leave a Nest Malaysia Sdn. Bhd. This was followed by Opening Remarks from Project Leader for this year's Career Discovery Forum, Dr. Nurul Syazwani Ahmad Sabri, Research Development Division, Leave a Nest Malaysia Sdn. Bhd.
The event continued with Special Remarks by Mr. Kamarulazman A Muhamed, CEO of Aerodyne Group. His keynote speech entitled 'Driving Digital Transformation with A.I-Driven Drones and Related Technologies'. During this Special Remarks, he shared the solutions that are provided by Aerodyne Group in the agriculture sector. In precision agriculture, he emphasized the importance of providing correct solutions to the existing problems. This is where Aerodyne comes in to provide optimized solution to the existing problems including automated fertilizer and pesticide spraying using A.I-driven drone, and for crops and yield analysis. At the end of his talk, he also gave valuable tips to be a good entrepreneur "You need to know your ikigai and what drives you," said Mr. Kamarulazman. He also added that we need to have focus to have a successful career ahead.
Following special remarks, the first keynote speech was given by Prof. Dr. Wickneswari Ratnam from Universiti Kebangsaan Malaysia (UKM). With her title 'Advancement of Plant Genetics for Future Food Security' she addressed the implementation of genetics and biotechnology as a powerful tool to increase the efficiency of current agricultural practices and crop productivity. Plant geneticist focuses on the improvement of agro biotechnological trait so that farmers can have high yield and improve cooking quality such as taste and nutrients. At the end of her talk, she also shared and inspired the participants with the challenges that she has faced as a researcher who has stepped out of her comfort zone to become an entrepreneur.
The second keynote speaker, Assoc. Prof. Dr. Samsuzana Abd Aziz from Universiti Putra Malaysia then continue with her speech entitled 'Revolution of Industry 4.0 for Next-Generation Farmers'. She passionately shared about her journey from village in Jengka, Pahang to Universiti Putra Malaysia and Iowa State University to improve the quality of her family's life. Under Smart Farming Technology Research Center in UPM, she and her team conducted a program with farmers in which simple concept of precision agriculture is applied. Through precision agriculture, she further described that this technology will allow high yield with low cost, while also preserving the environment to ensure sustainability for future generations. At the end of her talk, she shared that we as the agricultural engineers could contribute to the needs of human kinds and sustainability with precision agriculture applications.
Career Discovery Forum in Malaysia continues with the first Forum Session 'Shape Your Way in Agricultural Science and Technology'. The panelist of this forum were Dr. Chandrawathani Panchadcharam from Department of Veterinary Services, Assoc. Prof. Dr. Wan Zuhainis Binti Saad from Academic Excellence Division, and Captain Sudhir A K Kumaren from Arinaa Kambyan Berhad. This forum was moderated by Dr. Kihoko Tokue from Leave a Nest Singapore Pte., Ltd. It addressed the current situation of the agriculture sector from the perspective of the Ministry of Agriculture and Agro-Based Industry, the Ministry of Education and industry players in Malaysia as well as the talents needed to lead the industry. At the end of this forum session, each panelist shared words of encouragement to guide the participants into their future career path.
After the forum session, the participants were invited to visit Exhibition Booth and join Open Booth Discussion session with the participating companies.
The second Forum Session started in the afternoon with a title 'Entrepreneurship in Agriculture, Science and Technology'. This forum was moderated by Dr. Nurul Syazwani and featuring young and passionate entrepreneurs. They are Mr. Yong Wei Shian from Advanx Health, Ms. Atiyyah Ameenah Azmi from Pakar Go Green Sdn. Bhd. and Mr. Sio Chun Jia from Life Origin. In this forum, panelists shared about the nature of their job, their motivation and challenges that they have faced to pursue their interest in entrepreneurship. Through this session, Mr. Sio shared that entrepreneurship allows us to explore the opportunities around, while Mr. Wei Shian added that we should embrace making mistakes and failures once we are in the business field. The session ended with words of encouragement by Ms Atiyyah in which she emphasized the need to be physically and mentally prepared to be in the entrepreneurship field.
The event was then concluded by Mr. Abdul Hakim Sahidi, Managing Director of Leave a Nest Malaysia Sdn. Bhd. with his appreciation to corporate partners, guest and participants for attending this event. He wishes that in the future, Leave a Nest Malaysia could work together with partners to create unique project to create a better world to advancing science and technology for global happiness. We would like to thank all Keynote Speakers, Corporate Partners and participants for supporting this event!
We look forward to welcoming you in the next event, Hyper Interdisciplinary Conference in Malaysia (HIC) on 18th January 2020. HIC is a unique conference where corporations, startups, researchers and students from different fields gather together to create or integrate novel body of knowledge.
Tarikh Input: 24/10/2019 | Kemaskini: 24/10/2019 | amirahsyahira
PERKONGSIAN MEDIA